Kiiko Low Recessed Aluminium Profile Kit
Regular price

from $449.00

Regular price

Sale price

from $449.00
We have made our most popular LED profiles available as quick buy kits, ready for typical commercial, shopfitting and domestic installations.
--
Our kits come with 5 x 2500mm profile lengths, along with 30 mounting clips, 30 closed end caps and 15 open end caps. Only the LED strip and power supplies need to be ordered separately.
Specifications and Instructions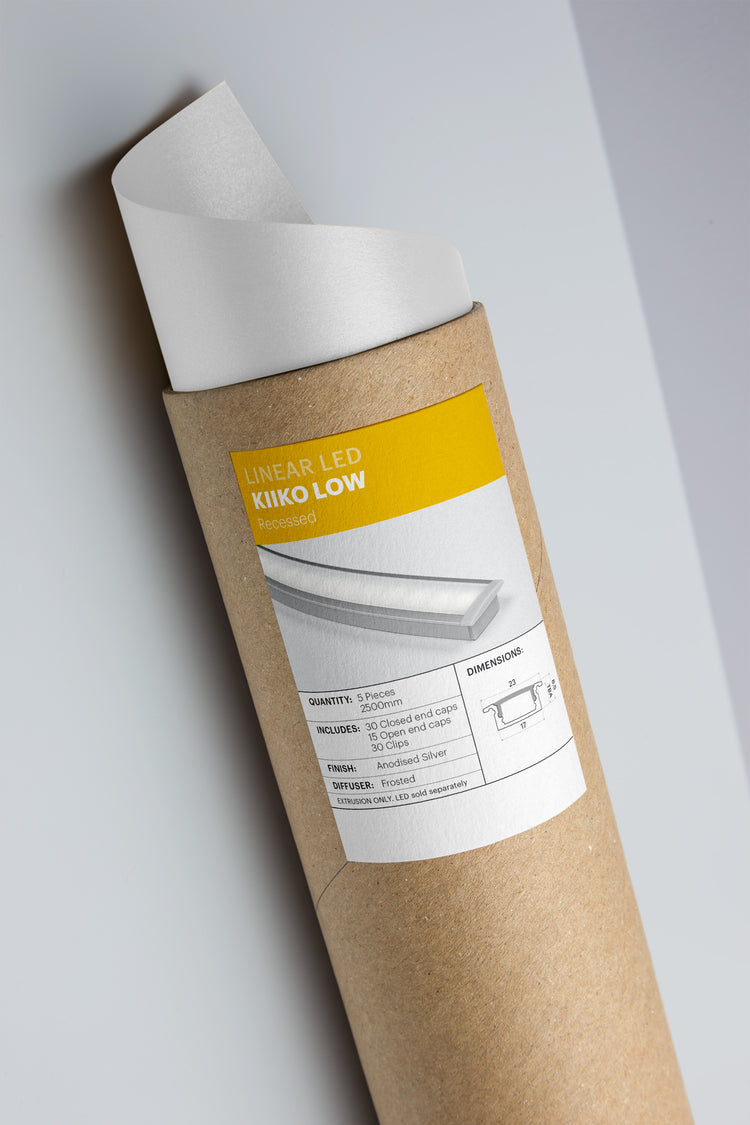 Kiiko Explained
Light Colour

Colour temperature is the hue of your light. It's measured in Kelvin (K) and the higher the Kelvin value of the light source, the closer the light's color will be to sunlight.

Whilst it does come down to personal preference, we recommend:

Warm white for bedrooms, lounge rooms or anywhere you want to create a feeling of intimacy or cosiness.

Natural white is Fantastic for task lighting and kitchens where you want to see objects in a more natural tone.
Wattage

When deciding which wattage to specify, it is important to consider how you will be using your linear lighting. If you have pre-existing lighting in the area from downlights, you may choose to use your linear lighting as a decorative feature, where 4.8w/m or 9.6 w/m will suit perfectly. However, if linear lighting is your primary light source in the area, you may opt for 14.4w/m to effectively illuminate the space.
Recessed VS Surface Mount

Our surface mounted profiles will sit on top of your cabinet, wall, ceiling, shelf, stairs (really we could go on, the possibilities are endless). This means you will see the sides of the profile. Our kiiko low is the narrowest surface mounted profile if you wish to reduce the side depth.

Our recessed profiles sit flush with your surface, meaning you won't see the profile, only the light itself. However to achieve this look you will need to cut or allow for a cavity to slide the profile into.
Why Kiiko?
Custom made to measure
We custom cut your project to guarantee the perfect fit, everytime.
Free design advice and expert support
Our knowledgable support team our here to support you every step of the way.
Transparent Pricing
We cut out the middle man and deliver directly from our warehouse to your door.
Tab collage
1. Pick your profile

2. Enter your length

3. Choose your specs

4. Made and shipped
This is your first and most important step. The type of profile you select will dictate the look, feel and function of your lighting. Consider at this stage if you want your lighting to be decorative or functional. Try to picture how you envisage your room looking. Need help deciding? Reach out to our expert design team.
At Kiiko, we custom cut your order down to the millimetre, exactly as you specify. For this reason, it is critical that you measure twice and make sure the measurements are correct.
Now you get to decide what finish, colour temperature, mounting method and wattage you would like for your custom lighitng. If you are unsure, please reach out to our design experts!
Now it's over to us. We will make your lighting custom to your specifications right here in Brisbane, Australia before shipping to your door!